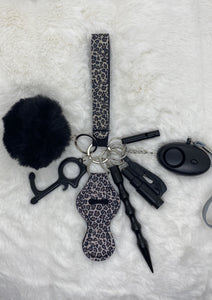 SafetyKeys Toronto
Cheetah SafetyKey
Regular price
$30.00
$0.00
Unit price
per
Your SafetyKey will come with a wrist strap for easy carrying, chapstick holder, touchless door opener tool with a stylus and bottle opener, safety stick, 2-in-1 seatbelt cutter & window breaker tool, personal safety alarm with LED light, whistle (colour may vary), glow in the dark SafetyKeys Toronto strap so you can find your SafetyKey in the dark, and a decorative pom pom! 
Not the best quality
Although I love the look and I think it's the cutest thing ever..the glass breaker was broken from the moment I opened the packaging … kinda disappointed for something i paid $60+ dollars for with tax. But I would still recommend just without broken pieces
Hi Gayatri!
We are so sorry to hear that your SafetyKey was damaged in transit :( Having shipped SafetyKeys all around the world without a single one being damaged, we are quite surprised to hear that your Cheetah SafetyKey was damaged while being shipped within Toronto. Since we did not hear from you about this issue when your package was initially delivered, we have reached out to you via email and look forward to rectifying this situation!
Stay Safe!
---