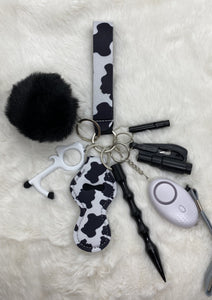 SafetyKeys Toronto
Cow SafetyKey
Regular price
$30.00
$0.00
Unit price
per
Your SafetyKey will come with a wrist strap for easy carrying, chapstick holder, touchless door opener tool with a stylus and bottle opener, safety stick, 2-in-1 seatbelt cutter & window breaker tool, personal safety alarm with LED light, whistle (colour may vary), glow in the dark SafetyKeys Toronto strap so you can find your SafetyKey in the dark, and a decorative pom pom! 
ABSOLUTE MUST HAVE!!
I live in sketchville and since having my Safety Keys I now have this feeling of relief knowing I have real shot in this ever growing deranged and dark world - I got this one as a gift, and ended up ordering a second one as the gift because it's just perfect and cute and safe (and i'm obsessed with cows)!!
10000/10 recommend!
100% Obsessed
Safety First!
I work in an area that is a tad sketchy from time to time. I love just knowing I have something on my person if anything were to happen. Thank you for this amazing product as well as the cutest hand written note 🥹 thank you!
Best keychain ever!
I was very skeptical at first because I thought they keychain as a whole was going to be too big, but I was wrong! I live in a sketchy area of the city and this keychain makes me feel so safe
It is very cute and hopefully works very well! Looks very practical and very safe, and I felt very comfortable just holding it! I love it! Will definitely buy more!
---