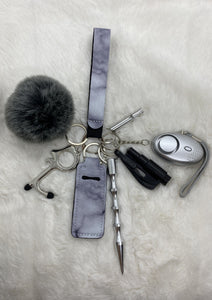 SafetyKeys Toronto
Grey Marble SafetyKey
Regular price
$30.00
$0.00
Unit price
per
Your SafetyKey will come with a wrist strap for easy carrying, chapstick holder, touchless door opener tool with a stylus and bottle opener, safety stick, 2-in-1 seatbelt cutter & window breaker tool, personal safety alarm with LED light, whistle (colour may vary), glow in the dark SafetyKeys Toronto strap so you can find your SafetyKey in the dark, and a decorative pom pom! 
Rather have one than not
I've been so excited about this keychain! God forbid I need it but I rather have it than not use it, than need it and not have it. You honestly need this keychain.
AMAZING! AMZING! AMAZING!
I love my safety keychain so much!
1. It's adorable, like who knew that safety tools could look so fashionable?
2. It's lightweight and it fits into every purse I have
3. It makes me feel safer when venturing outside.
I live in a big city where anything could happen, even with people. To have this keychain that looks great and is functional is amazing. I take it with me everywhere. I love the pom pom on it too. I haven't had to ever actually use it but the quality of materials feels good. It's definitely well made stuff that'll keep anyone away from you. I feel so much safer walking around now.
---