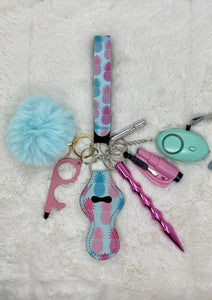 SafetyKeys Toronto
Pineapple SafetyKey
Regular price
$30.00
$0.00
Unit price
per
Your SafetyKey will come with a wrist strap for easy carrying, chapstick holder, touchless door opener tool with a stylus and bottle opener, safety stick, 2-in-1 seatbelt cutter & window breaker tool, personal safety alarm with LED light, whistle (colour may vary), glow in the dark SafetyKeys Toronto strap so you can find your SafetyKey in the dark, and a decorative pom pom! 
Best Purchase I have Ever Made
I am a home health care worker and work late nights going to my clients homes and these keys came in handy when I had someone following me to my car.. I pulled the pin on the personal alarm and just like that the guy who was following me took off like a bat out of hell and a few of the neighbors came out of their houses to see what was going on. Thank you so much for offering these keys!!! They definitely saved my life that night.
Awesome
Beautiful love everything on my be safe key chain love it gave the other set to my sister
---